Transportation
Third Academy families have several options to travel to and from our campuses:
1. Parent/Guardian drop off and pickup
2. Third Academy School Bus service
3. Calgary Transit
4. Calgary Transit Access
Our Calgary campuses are located adjacent to major transportation corridors providing convenient access.
Please discuss your transportation options with Tammy Morton-Renyk our Transportation Manager Assistant, at 403-899-2661 or by email.
Parent/Guardian Drop Off and Pickup
Many Third Academy parents or guardians find transporting their children to and from school the best way for their child to travel. This minimizes travel time as the route is generally from home to school and back.
Third Academy School Bus Service
While most schools contract out Transportation Services, Third Academy operates our own fleet of school buses. We use these buses to take students to and from school, as well as for local and out-of-town field trips. Our highly trained school bus drivers are Third Academy employees. They understand children with special needs and work with our Transportation Manager, Principals, and Teachers to ensure that riding the school bus is a positive experience for your child.
While we attempt to provide bus service to all areas of Calgary and some of the surrounding communities, our bus routes are determined by our ability to provide a shared bus service to our families' residences. Currently we provide bus service to many Calgary communities, the Tsuut'ina Nation, and the towns of Okotoks, Airdrie, Langdon, and Cochrane, and Bragg Creek.
The level of bus service provided by Third Academy is based on individual student's needs and our ability to operate a bus system effectively. Priority is given to elementary students requiring a shared ride service and are ineligible for Calgary Transit Access.
Depending on student need and road conditions, door-to-door service may be provided with most Third Academy students picked up a short distance from their home. Our bus drivers use cell phone text messaging to communicate with parents (only while parked at a safe location) to ensure parents and students know when to walk out to meet their bus.
Calgary Transit (CT)
It's easy for Third Academy Junior and Senior High School Students to ride transit to and from school. While our school is just outside of Calgary's city limits, there is CT regular bus service going to Calgary's East Hills Shopping Centre, about 7 minutes away from our school. Route 307 – the Max Purple – provides rapid bus service to and from the C-Train corridor in downtown Calgary. We offer complementary school bus service for students to and from the East Hills Shopping Centre.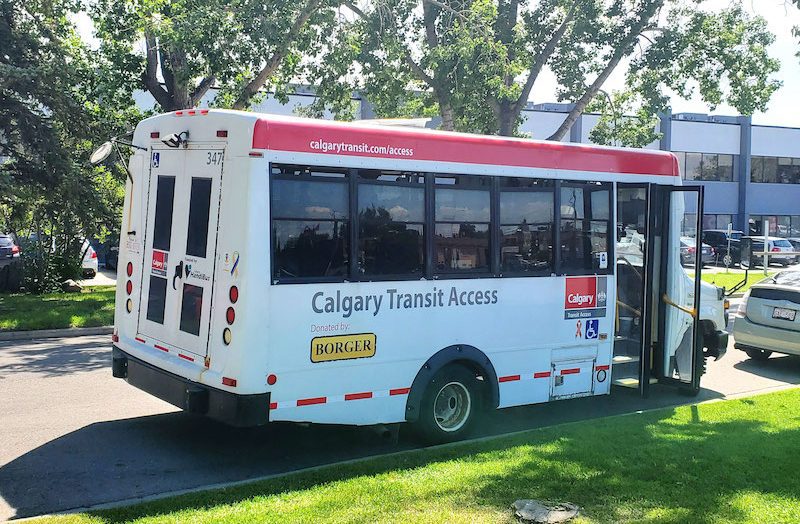 Calgary Transit Access
For a variety of reasons, Calgary Transit may not be an option for some Third Academy students. Calgary Transit Access provides transportation services to Calgarians – including students – who are not capable of utilizing the regular Calgary Transit service and may require a higher level of service than our school buses can provide. Access Calgary is a shared ride service. Riders must have a valid Calgary Transit Monthly Pass or Ticket. Third Academy shares Access Calgary's goal to transition Access Calgary riders to Calgary Transit if and when it possible to do so. Contact Bruce Freeman, Third Academy Transportation at 403-888-8437 or by email (bfreeman@thirdschools.ca) for assistance in making application for Calgary Transit Access service.